Florida Lake Boating
Boating and cruising Florida lakes and waterways is a popular pastime. With thousands of lakes to choose from, Lake County Florida provides a wide array of boating opportunities. Large lakes like the Harris Chain offer the chance to explore new areas not often seen by shore line visitors. The seven Harris Chain Lakes cover approximately 50,000 acres of water. Seven of the lakes are interconnected. The average depth is about 10 feet with no hidden open water hazards.
The Harris Chain is part of the Ocklawaha River basin which flows into the St. John's River at the small town of Welaka. It is possible to cruise in a small boat from the headwaters of the St. John's River to the Atlantic Ocean in Jacksonville, a distance of nearly 300 miles. The St. John's River is close to the east boundary of Lake County Florida. The closest boat ramp on the river is on highway 44 near the City of Deland. From Deland, you can cruise up the St. Johns to Jacksonville or travel South past Sanford, Lake Jessup, Lake Harney and deep into the upper reaches of the St. John's River. Waterfront resorts and restaurants line the river and make cruising an interesting day trip.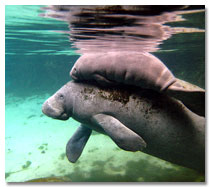 In the winter, the Blue Springs area is the home of a large group of Florida Manatees attracted by the warmer spring water. These gentile giants can be viewed from shore, but the ultimate experience is to see them from a small boat. The Crystal River area west of Lake County is the Florida Manatee capital. Here, you can actually swim with the manatees and view them very close up and personal. For more information, contact www.FamilyAdventureCharters.com.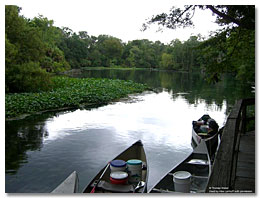 Small lakes offer quiet solitude and a chance to try your luck at fish that rarely see an angler or lure of any type. Water quality and visibility is generally better in the smaller lakes, making swimming and waterskiing popular.
If you have questions about Florida lake boating, please contact us.