The Harris Chain of Lakes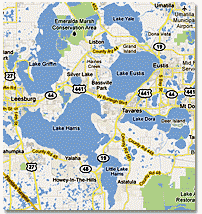 The Seven Harris Chain Lakes are: Big and Little Harris, Dora, Carlton, Beauclair, Eustis and Griffin. Lake Yale is technically part of the Harris Chain, but is not accessible from the other lakes. Lake Apopka near Orlando is the head waters of the Chain. These lakes are part of the Florida Ocklawaha Basin which drains Central Florida to the north through the St Johns River entering the Atlantic Ocean at Jacksonville.

The lakes are a fisherman and boaters paradise. Local bass fishing tournaments are held on a weekly basis and the Harris Chain is now a popular stop on the ESPN B.A.S.S. Tournament Trail with its great fishing highlighted on many outdoor TV shows.

In addition to their shear size and popularity, these lakes are covered with beautiful home sites, some high on a hill with panoramic views of the water below. Most Florida lakes are shallow swamps full of water plants, logs and obstructions. The Harris Chain's open water averages over 10 feet in depth and underwater obstructions are almost non-existent. This makes these lakes ideal for lakefront living with high performance boats a popular item. The Harris Chain is also Jet-Ski and cruising paradise. With so much water to explore, you never get tired of finding out what's around the next corner. A popular day trip is to boat north from Lake Griffin to visit the famous Silver Springs in Ocala. The round trip can be completed in one day and it is well worth the effort.
Harris Chain water levels are less affected by seasonal droughts than lakes further south. Water levels remain within a three feet range. Some shallow canals can have problems, but open water navigation remains unaffected.
These are large lakes covering over 50,000 acres of total surface area. During World War II, vegetable farms sprang up around the shores of Lake Apopka to provide food for the war effort. Runoff from these farms and from other local sources caused Lake Apopka to become overloaded with fertilizer and other nutrients. The water quality and great fishing this lake was known for was threatened, which caused the State of Florida to purchase and close the lakeside farms in the nineties. Hundreds of millions of dollars has been invested, with work still ongoing to restore and improve these lakes. In recent years, the great fishing has returned and the water clarity has significantly improved.
If you have questions about the Harris Chain of Lakes, please contact us.