Florida Small and/or Private Lakes
Lake County is covered with thousands of small natural lakes. The majority of small lakes in our area are spring-fed with good water clarity. Most are private, but some have public boat ramps that were grandfathered in before the county was developed. The appeal of the small lakes is the quiet natural setting and the beautiful natural view. The following is a list of our more popular small lakes.
Lake Gertrude
Located within the City limits of Mount Dora, Lake Gertrude or the "Doctor's Lake" is one of the most prestigious and highly prized lakes in the County. The water is crystal clear, fish are abundant and clearly visible from any boat dock. Public Access to Lake Gertrude is limited except for a small canoe launch area on the west side. Swimming, fishing and water skiing are popular with lakefront property owners. For more information about Lake Gertrude click here.
The Crooked Lakes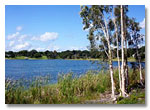 East and West Crooked Lakes are located in Eustis Florida. These lakes are both spring-fed white sand bottom lakes. The lakes were once joined but a small road built years ago cut the lakes into two sections. East Crooked Lake is especially beautiful and as it winds it's way through the hills with luxury homes build into the surrounding hillsides. For more information about the Crooked Lakes click here.
Lake Loch Leven
Lake Loch Leven is a 187 acre clear water lake in Northern Mount Dora. This lake has a large upscale gated community named after the lake on the lake's west side. Homes in the community of Lock Leven have the hard-to-find combination of newer upscale homes and an in-town lakefront setting. The east side of Lake Loch Leven is in the Mount Dora Country Club Golf Community, which has a small number of lakefront homes.
Lake Joanna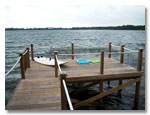 Lake Joanna is a 335 acre private lake with a very nice housing development called Park Place located on it's north east side. The lake has clear water and a white sand bottom. Park Place has limited number of lakefront homes. All residents of Park Place have deeded access to Lake Joanna and use of the communities private boat ramp. Lake Joanna is a great lake for waterskiing.
Lake Saunders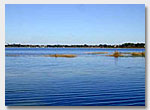 Lake Saunders is located within the City limits of Tavares. The lake is approximately 300 acres and large enough for waterskiing. The water quality is good and the fishing is excellent. There are a number of modest lakefront homes on the lake and two housing developments. The homes in the development of Lake Saunders Point are less than 10 years old and the lakefront homes can be a lakefront bargain. The homes in the newer housing developments all have city water and sewers. There are a few older homes on Lake Saunders with large lots.
Lake Dorr
Lake Dorr is located in the Ocala National Forest about 5 minutes north of the City of Umatilla. Lake Dorr is one of the largest lakes in the Ocala National Forest at 1,700 acres. This lake is surrounded by pristine forest and looks like a Canadian wilderness travel log. Three quarters of this lake are in the forest and will never be developed. Homes on this pristine lake are few in number, highly desirable and expensive. Deer, black bears, water birds, large woodpeckers and all manner of wildlife are a frequent site. The water is stained from the abundant cypress trees surrounding the lake. Water quality is excellent.
Lake Dalhousie
Lake Dalhousie is located in a quiet country side area east of Umatilla. This 248 acre clear water lake is surrounded by huge lakefront estate homes. Homes on this lake are generally newer and average well over 3,000 sq. ft. Water skiing is very popular with the well-heeled lakefront homeowners. There is a small dirt public boat ramp located on the southeastern shore. Fishing is excellent.
The Umatilla Lakes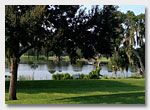 The small City of Umatilla Florida is 6 miles north of Eustis near the southern border of the Ocala National Forest. This area is dotted with dozens of small spring-fed lakes. Lake Umatilla is the largest at 169 acres. Lake Umatilla and the tiny Holly Chain have small public boat ramps. The majority of the Umatilla lakes are private. These lakes are known for clear water and white sand bottoms. Some lakes have luxury homes built on their shores, but most have modest cottages. The fishing in these small lakes is outstanding due to the lack of fishing pressure. Water skiing is popular on the lakes with enough surface area. This area is quiet and laidback with a significant county feel. Homes on these small lakes are not cheap but more affordable for most buyers than property on the large lakes.
If you have questions about Central Florida small or private lakes, please contact us.